I have always been a list maker. I don't trust my memory for the never-ending scroll of tasks and projects and work things to be done. So I write them down.
I keep a paper planner. It's a pretty one. I love it.
I spend a moment each morning concocting my list of things to do for the day, before the day gets away from me. I look at my calendar and see what my deadlines are, frantically look around the house to see what needs to be done, think about what's for dinner, and make my list. I keep the list in my planner, stuck to the day. That way if something doesn't get finished, it gets moved to the next day.
That NEVER happens around here…
I used to save all those little post-its in my planner. But remember George's wallet on Seinfeld? It was like that.
(wow, laugh tracks are so obnoxious, especially when out of context)
I used to save my planners. It has actually come in handy, trying to figure out where we spent Thanksgiving last year or remembering that crappy campground that we wanted to make sure not to go back to.
I used to save interesting lists, too. I had every show list from every Moisture Festival show I ever worked.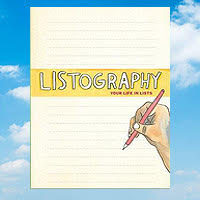 Someone once bought me a book of lists about life – where you actually fill in your lists. It was rad. But I never finished going through it. It's on my long-term to-do list.
I recently purged. I've been on this simplification spree. It was really hard to get rid of the lists of my life. They are the records of my experience. Almost "art". Or at least archive.
My lists now with the Pie are never-ending, incomplete, crumpled and water drool damaged.. One of my greatest joys in life has always been putting one firm, straight, neat line through each item on my list. No longer.
Lists are disrupted, partial, left uncompleted. They get crumpled and licked and sucked and drooled on. I find the babe playing with the lists still attached to the post-it pad, or eating the ones that are loose.
Baby likes lists.
Here, for art or archive, are today's lists. They're a mess, written on whatever scrap of paper I can find when the list pops into my head. If I don't write it down, it flies away.
I keep separate lists for chores, grocery lists, work tasks, volunteer tasks, and random things I want to remember. I have lists of topics I want to blog or things I wanted to research. I have lists of things I want to do for myself (read: shower, get haircut, read something not baby-related) I keep lists of everything I want to remember, everything I need to think about when I have time to think, everything I need to do or get or give.
I love those giant post-it pads with the lines. Oh. they are so good. And the sharpie pens. But even better, a really nice mechanical pencil. The Mountain Man knows how much I love nice mechanical pencils, and he bought me two for my birthday. I promptly lost one of them. I'm still angry about it.
In the chaos, uncertainty and never-endingness of motherhood my list compulsion has grown to epic proportions. (see today's lists, above) I can't imagine baby life without my lists. They keep me on track when I finally have a moment to myself and can't think of what I need to do, or get overwhelmed with trying to do everything at once. They help me plan my day and week. They offer me some sense of accomplishment, even if small. They keep me connected with my goals (even if only the short-term ones) and make me feel more functional, in control, productive, and capable. I need my lists to make me feel like my old self. Without a brain-dump on paper, I feel completely scattered, ineffective, lost.
My brain lives on paper now.
I would recommend you all buy stock in post-it. This is going to be a long haul, and my sanity is so tenuous I'll be writing a lot of things down.